Next Up

In Review

In Review

In Review

In Review

In Review

In Review



News
February 2014
February 14, 2014

Fourth Star Wars Rebels Character Reveal, Ezra Comes From TVGuide

The dam is breaking now, as Toy Fair is about to begin in NYC. After a long year of drought for Star Wars fans, news is emerging every day now. The latest in the series of reveals is of the fourth character for Star Wars Rebels, this time delivered through TVGuide's website. Ezra, a 14 year old resident of Lothal is a Force-sensitive street urchin who joins up with Kanan as crew of the Ghost. Check out the video above, and stay tuned for any updates to this article that we'll add once the wider LFL item appears on the official Star Wars site.
February 13, 2014

Star Wars - The Clone Wars Season 6 "The Lost Missions" to Stream on Netflix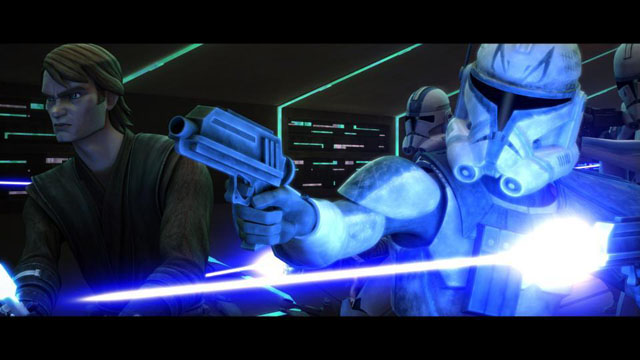 The announcement Star Wars fans have been waiting for a year finally came today, and the news is pretty darn good. Thirteen brand new episodes that will make up the sixth and final season of The Clone Wars animated series are going to debut on Netflix's streaming membership service. Now called "The Lost Missions", what was once referred to only as "bonus content" has amounted to a full season's worth of episodes that will appear on Netflix along with the entire previous five seasons of the show and the initial 2008 feature film, all in HD, extended director's cut versions starting on March 7. Click through for the full story
February 12, 2014

Vintage Star Wars Tray Valentines: Another Look Back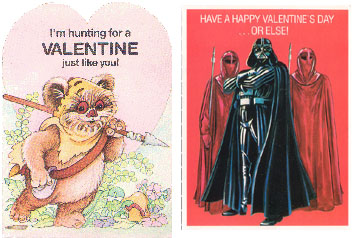 It's hard to believe that it's been nine years since we profiled and archived the 1980's vintage-era Return of the Jedi and Ewoks Tray Valentines. And ours remains the only full gallery of them on the web. If you've procrastinated and are really stuck for a card for a Star Wars fan, then you're in luck. If you're just a fan yourself, you'll really enjoy a look back at the first time a slimy piece of worm-ridden filth was offered as an ambassador of love. Check out our 2005 report on Vintage Star Wars Tray Valentines. The article also appeared in the February 2005 NYLine newsletter as part of our sponsorship of the New York City line-up for charity for Revenge of the Sith. It's less likely that people will camp out on 54th Street for a month in December of 2015. But they'll still have the love of the Max Rebo Band to keep them warm.
February 11, 2014

Star Wars Rebels' Third Character Reveal Appears via USA Today

In an exclusive article featuring a Lucasfilm-produced video on its website, USA Today revealed the third character to be unveiled from the upcoming Star Wars Rebels animated series. He's a jedi by the name of Kanan who is described as a "cowboy jedi" and who is presumably one of the primary characters of the show. As you can see in the video above, Kanan is unlike the Jedi we've seen so far in that he's not clad in monk-like robes and carrying himself with the serious and wizardly demeanor of Alec Guiness' Obi-Wan Kenobi. He's more like Han Solo with a lightsaber, while wielding a blaster in the other hand. He's dressed in casual clothes, with a piece or two of armor on one shoulder. And he's quick-tongued and cutting, an attitude more suited to life aboard his ship, The Ghost, which we've seen in slides revealed at convention panels and online in 2013.
The character also bubbled to the surface last week in the form of a silhouetted LEGO minifigure depicted on the side of the box of the upcoming LEGO set based on The Ghost. That image also furnished the full name, Kanan Jarrus.
It's likely that a full announcement will also appear on the official Star Wars site overnight, so check back here as we'll update with the press release and any further information on Kanan that emerges.
---

Soundtrack Review: The LEGO Movie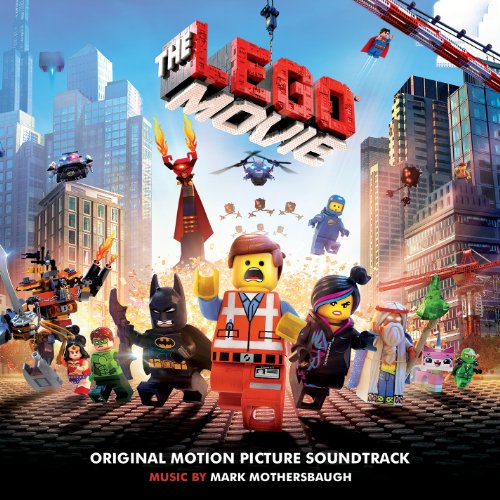 The LEGO Movie soundtrack comes out today, and as those who've already seen the film know, it's basically the coolest soundtrack since 2010's TRON: Legacy. With an incredibly cheerfully infectious mind worm of a theme, it would really be fantastic to see that Russian police choir singing "Everything is Awesome" alongside the Daft Punk and Tom Jones hits in their repertoire. Click through for M107's full opinion.
February 10, 2014

Jeffrey Brown to Pen Star Wars Bedtime Story, "Goodnight Darth Vader"
A third installment in Jeffrey Brown's popular Darth Vader all-ages picture book series is planned, as announced today on the official Star Wars site. No publication date was specified. The text of the press release from starwars.com appears below:

Darth Vader: Sith Lord, enemy of the Rebellion, and...bedtime storyteller?

Lucasfilm and Chronicle Books are excited to announce writer/artist Jeffrey Brown's latest all-ages, fully-illustrated Star Wars book, Goodnight Darth Vader. It's bedtime in the Star Wars universe, and Darth Vader's parenting skills are being tested anew in this delightful followup to the breakout New York Times Bestsellers Darth Vader and Son and Vader's Little Princess.

Vader may be ready for his kids to go to sleep, but his twins, Luke and Leia, want a bedtime story first -- one that involves the aliens, heroes, villains, and monsters of their world. From Han Solo and Chewbacca to Boba Fett and baby Ewoks, from the wampa ice creature to Jawas, all of the galaxy's denizens are getting ready for a night's rest in this delightful story told in verse, with plenty of nods to the rich Star Wars narrative.

Goodnight Darth Vader will delight Star Wars fans young and old, and, once again, remind parents that the experience of parenting is universal, even in a galaxy far, far away...
February 4, 2014

Star Wars Rebels Imperial Propoganda Promo Posters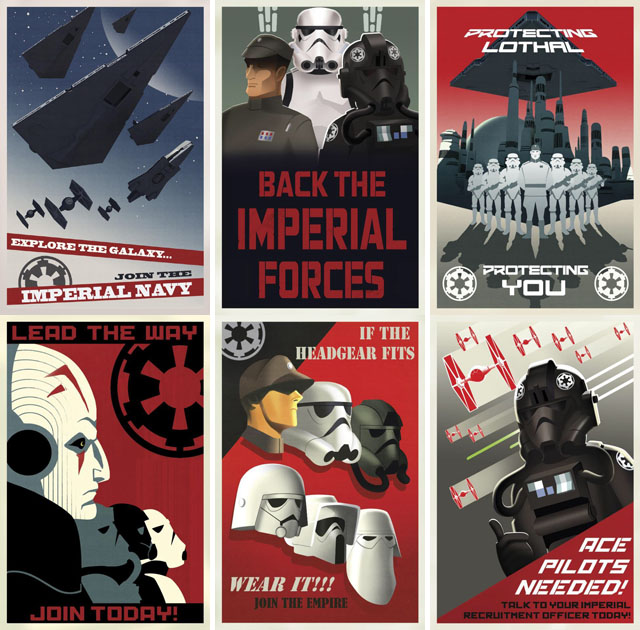 A series of six new promotional posters for the upcoming Star Wars Rebels animated series appeared on twitter and online at a half-dozen websites today. Each of the six was exclusively revealed at six entertainment news sites, while the official Star Wars twitter feed tweeted each out with a link to corresponding articles on each site that was given the exclusive.

A physical copy of the set of posters was part of a press kit sent out to promote the upcoming series to 2500 recipients including media outlets.

Evocative of 20th century communist propaganda poster art, the posters promote enlistment into the Imperial military, presumably to the galaxy at large, and in particular to the people of Lothal, the planet central to the Rebels animated series. The Empire is tightening its grip on Lothal, according to what we've heard about the story from the various convention panels and promotional materials slowly released over the past year. Riding a wave of popular support in the wake of the Clone Wars, the bloom is beginning to come off the rose as the Empire begins to break the backs of planets like Lothal, heavily taxing the people and fully exploiting the planet's natural and commercial resources in its tremendous military buildup. And as Princess Leia said to Grand Moff Tarkin in "A New Hope", the more they tighten their grip, the more star systems will slip through their fingers. The seeds of dissension and yes, even rebellion are taking root on Lothal. And it's sure to be an exciting new era for Star Wars fans once we see it all unfold, starting on the Disney channel this fall, with a one hour special. And then the series premiers on Disney XD.

In the meantime, check out our gallery of high-res images of the posters below and check back here at Row M for all things Rebels now that the series is fast approaching.
February 3, 2014

HASBRO UNVEILS TRANSFORMERS: AGE OF EXTINCTION FIRST EDITION OPTIMUS PRIME FIGURE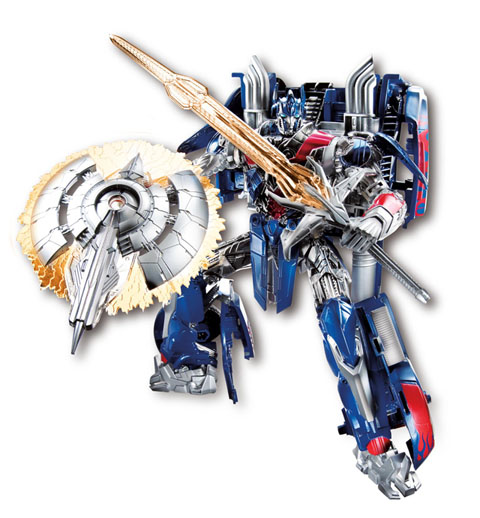 Check out the Big Game spot below, and click through for the full Hasbro Press release. And have a look at our gallery of hi-res images of AOE 1st Ed. Optimus Prime in our gallery below the video.
February 2, 2014

Row M's Star Wars LEGO Brick Bowl IX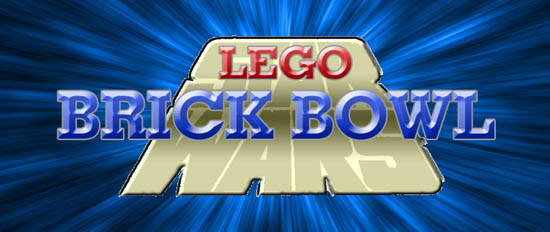 Welcome to Star Wars LEGO Brick Bowl IX!

Our Super Bowl-simulcast build was a huge success, mainly because the LEGO's Ewok Village set is so awesome. But then again "Everything is Awesome" with LEGO nowadays, isn't it? We did technically get beaten by the Super Bowl, finishing a scant few moments after the game clock ran out. But that was due to a late start fo building station one, which was a critical setback, as the output of both stations two and three depending on work done at station one, that never caught up to the team.

Check out some stills of the model below, and a full gallery to follow.