News
October 2013
October 3, 2013

NYCC 2013: Fox Serves Up Bob's Burgers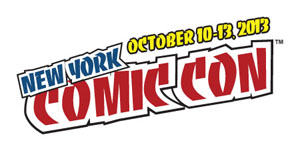 Bob's Burgers is joining the roster of TV shows with a full presence at New York Comic Con. Fox will present a panel on Friday, featuring Creator and Executive Producer, Loren Bouchard as well as voice cast members, H. Jon Benjamin (Bob Belcher), John Roberts (Linda Belcher), and Dan Mintz (Tina Belcher). The panel will feature footage from the show and a panel discussion and Q & A. The panel takes place on Friday from 7:45-8:45 PM at Empire Stage 1-E.

But wait, there's more. No ginsu knives, but prior to the panel on Friday at 4PM, the cast will also sign autographs at show. So, be sure to mark your show schedule if you're a fan of Bob's seaside Burger joint, and his ridiculous family.
October 2, 2013

NYCC 2013: Dark Horse Announces Star Wars Exclusive Variant
Dark Horse announced their New York Comic Con Exclusives today, and their Star Wars offering is sure to be one of the hottest exclusives of the show.

"The Star Wars" is already a best seller for Dark Horse, based on George Lucas' rough-draft screenplay for Star Wars. The convention exclusive is a black and white sketch cover variant of issue #1, which will be sold only at the Dark Horse booth (#1636). It's a limited run of only 1,000 copies. It will be limited to two copies per person (at a cost of $5 per copy), while supplies last. It's not clear if they will be allocating quantities for each day of the show, so you'll want to hit this one early on Thursday, in case they simply sell right through.