April 22, 2006
NYLineIII Message Board Archive Now Open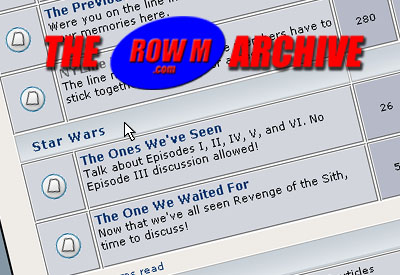 Row M is now hosting a live archive of the NYLineIII Message Boards. All the old discussion and planning threads surrounding the 2005 Stand-A-Thon that preceded the final Star Wars film of the Prequel Trilogy are here, unedited and unabridged. Also, all the ongoing, current discussions continue uninterrupted. So, adjust your bookmarks to...
...and you can find everything your used to. All existing logins and passwords remain unchanged. If you are a member from NYLineIII that never registered for the boards or never requested access to the Members-Only forum, you can still do so by contacting webmaster@rowm.com . It'll help if you can dig up your old "rots" number.
With the first anniversary of the release of Star Wars Episode III approaching in May, planning among Star Wars fans for an anniversary get-together is underway on the message boards, so feel free to visit and take part in the planning, or just catch up with other Star Wars fans who were members of last year's stand-a-thon.