Next Up

In Review

In Review

In Review

In Review

In Review

In Review



News
January 2015
January 24, 2015

Row M's LEGO Star Wars Brick Bowl X One Week Away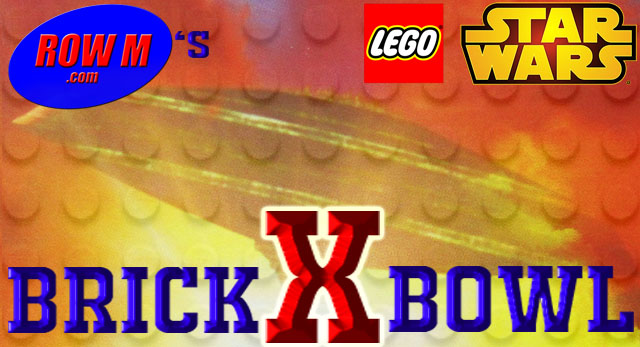 In just over one week, Row M will for the tenth consecutive year take on the NFL with the LEGO build of the year, Row M's LEGO Star Wars Brick Bowl. As the Super Bowl plays out its deflated narrative this year, LEGO fans, Star Wars fans, and LEGOStarWars fans worldwide will be able to follow along with our live webcast of our build of the biggest LEGO Star Wars model of the year (so far...) And this one is a classic example of the kind of hefty set depicting an iconic Star Wars vehicle that has defined Brick Bowl for ten years running.

While you ponder the huge mystery of what we could be building, consider that so far, over 9 previous Brick Bowls, we've assembled over 24,000 LEGO bricks during the 9 previous Super Bowls. That means that this year, we'll cross the 25,000 brick mark during the build. Can you guess how long it will take for us to hit that 25,000th brick? Shall we make it interesting?

Stay tuned this week to find out all about Brick Bowl X, and get your Internet connection ready for Game Day, next Sunday, 2/1/2015. Will Row M be able to complete the build before the clock runs out? Or will this model's deceptively small brick count confound the team? So much better than actual football, right? Kickoff time is..., well, kickoff time. That's 6:30 PM, EST.
January 19, 2015

Hasbro's Hero Mashers Line Grows To Include Star Wars & Jurassic World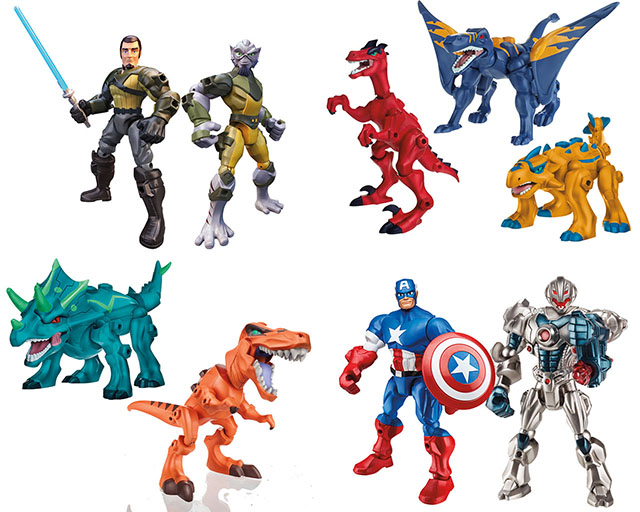 Hasbro will be applying their recent Hero Masher concept to more properties, including Star Wars and Jurassic Park's new chapter, Jurassic World as unveiled exclusively on Forbes.com today. We first saw Hero Mashers at Hasbro's showroom at Toy Fair in New York City, back in February of 2014. Since their introduction, they've proven popular enough both in their Marvel and Transformers incarnations that Hasbro will be spreading the concept over the two additional licensed themes, both of which are on course for big theatrical film releases in 2015. Click through to read more about Hero Mashers and what Hasbro has planned for the newest additions to the line.
January 12, 2015

Billy Dee Williams Returns as Lando Calrissian on Star Wars Rebels

Billy Dee Williams' voices an animated version of Lando Calrissian, the most memorable and enduring character he's ever played, in the next new episode of Star Wars Rebels, airing on Disney XD on January 19. The episode, titled "Idiot's Array," is already available today on the Watch Disney XD website and app, and On Demand from some cable providers.

In this preview video, Dave Filoni desribes Lando with admiration "He's cooler than Han Solo."

"Lando certainly has swagger.", says Billy Dee Williams. "My voice is Lando. My persona is Lando."

View the preview video above. "Idiot's Array," airs on Monday, January 19th at 9:00 p.m. ET/PT on Disney XD.
January 9, 2015

Road To Celebration Hoth-Themed Third Pin Set Pre-Order Now Up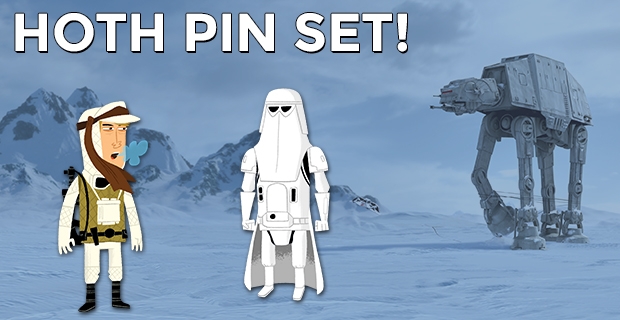 The Road to Celebration continues with the third of four pin sets now up for pre-order to those who have purchased their badges for Star Wars Celebration Anaheim. The third set is Hoth-themed, featuring Luke Skywalker in Hoth Outfit and a Snowtrooper. The set is scheduled to ship in February and includes the card pair of pins and a tee shirt featuring images of those pins. This is will be only way to purchase these pins directly. But, as is the point of the pin-trading program, collectors are encouraged to purchase extra sets (up to five per badge order) to use for trading around with other collectors at the convention in order to make up a full set. There will be certain pins in the set that will only be able to be traded for at the convention. No details have been made clear yet about how many, which ones, or how those individual pins will be found at the convention. But there's sure to be a scramble for those.

Prior badge purchasers should check their inboxes for the email linking to the pre-order, or just log back into your account at the www.reddpopsupplyco.com and you should be able to view the link to the private pre-order page. New badge purchasers can also purchase the current set while supplies last. So, if you haven't ordered your Star Wars Celebration tickets yet, now is a great time if you want to jump into the Road To Celebration and the pin trading program.
January 5, 2015

Hasbro and Sideshow Products Still Tangled Up At West Coast Ports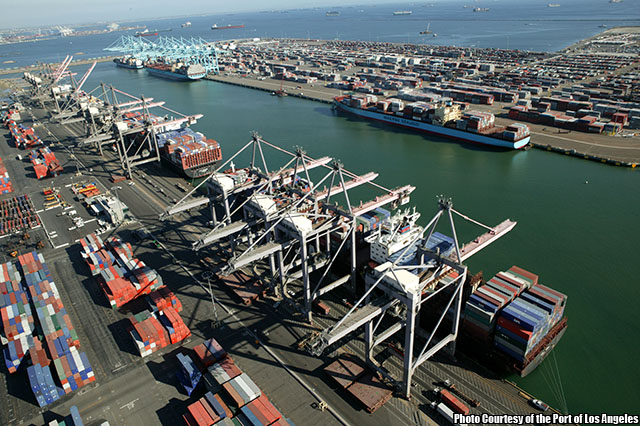 Sideshow Collectibles has sent out several rounds of new emails today to update customers about delays in shipment of several pre-ordered items, including their 1:6 scale Star Wars Captain Rex figure. Sideshow was originally scheduled to begin processing charges for pre-ordered Rex figures only hours later. But now they'll have to wait to collect funds until it's clear that the inventory has made it through the Port of Long Beach and into Sideshow's hands so that they can begin shipping. This is just the latest example of a delay in the appearance of an individual Star Wars toy product at retail that certainly dimished the presence of Star Wars under the tree in many households this past Christmas season, and threatens to drag even new Star Wars Episode VII products into the void later in 2015. Click through to read up on what's going on with the ports and why it's behind all those boring toy runs.
January 2, 2015

Road To Celebration Early Bird Pin & T-Shirt Sets Arriving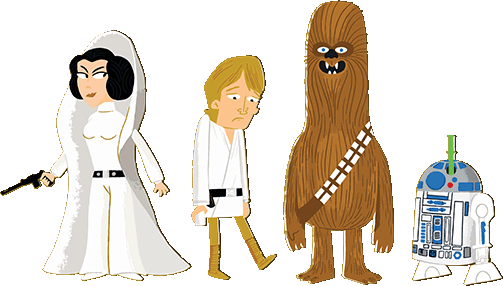 2015 is starting off with a fun arrival in the mail for Star Wars fans who ordered ReedPOP's Road to Celebration Early Bird Pin and T-Shirt set in preparation for the Pin Trading Program that will be going of during Star Wars Celebration Anaheim in April. After a delay, the sets have started arriving at their destinations, thanks to a holiday week burst of shipping by ReedPOP.

The delay was disappointing for those who expected these to come in the fall, as first predicted. But it's being made up for nicely by this extra effort that has resulted in many fans receiving their first treat in the mail of the New Year, in a year that will be big for Star Wars. ReedPOP is also making it up to customers by throwing in a free pin, as previously reported. So if yours hasn't shown up yet, keep a close eye on the mail and your tracking info. Your Road to Celebration is truly about to begin!