Next Up

In Review

In Review

In Review

In Review

In Review

In Review

In Review

In Review

In Review

In Review

In Review

In Review

In Review

In Review

In Review

In Review

In Review

In Review

In Review

In Review



Lord of the Rings
July 2014
July 27, 2014

SDCC 2014: LEGO Booth Life-Sized Models, Star Wars Set Reveals & Exhibits
by Byron Crystal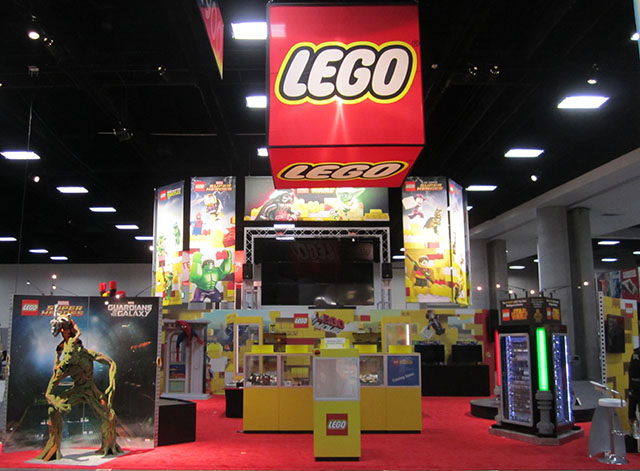 The LEGO booth (#2829) is always one of the hottest spots on the floor at San Diego Comic Con. And that's not just because of their exclusives and merchandise on sale at the booth shop, or swag giveaways. LEGO creates amazing displays that define the perimeter of their booth, featuring life-sized LEGO models of all the latest and greatest LEGO subjects. And this year was no exception.

LEGO has been doing truly amazing things with both Marvel and DC characters for some time now. And with the release of "Marvel's Guardians of the Galaxy" feature film coming on the heels of this year's Comic Con International, this life-sized figure of Rocket and Groot has been a real crowd-pleasing anchor at the south corner of front of the booth. The model stands over 6 feet tall, with Rocket poised atop Groot's shoulders, with a snarl on his face and rifle at hand.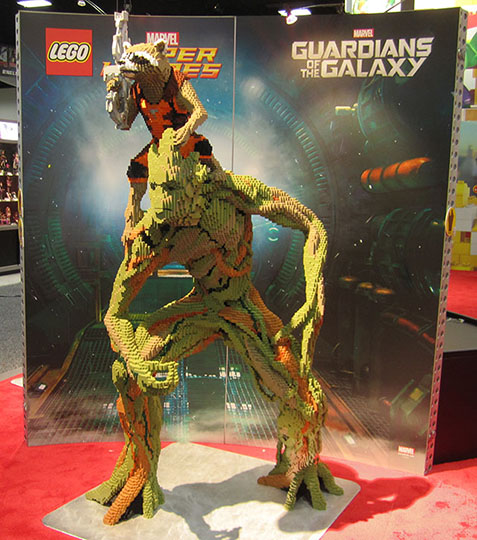 Behind that on the south side of the booth is terrifically tall Lord Business from the LEGO Movie, looming at 8 feet high. It doesn't get more life-like than this for a LEGO version of a film character, as this character started out LEGO in the first place. You'd better pose and snap your photos quickly, or he's bound to slather you in the Kragl and then you're stuck until the end of show.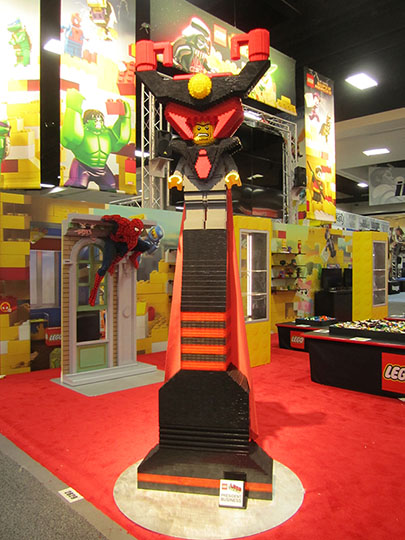 Headed back further, once finds an amazing "Amazing Spider-Man". Clinging to the side of a building, Spidey is poised for some web-slinging and is so realistic in both scale and likeness, that one could easily believe that he could spring off the display and swing up to Ballroom 20 in the blink of an eye.
On the north side of the booth, LEGO celebrates the 75th anniversary of BATMAN with a new life-sized model of the Batcycle from the Batman Classic TV Series, complete with sidecar, made entirely out of LEGO bricks. It's been tough to catch this model on its own in photos all weekend, as kids have been leaping on and trying to ride it away since the doors of the show opened.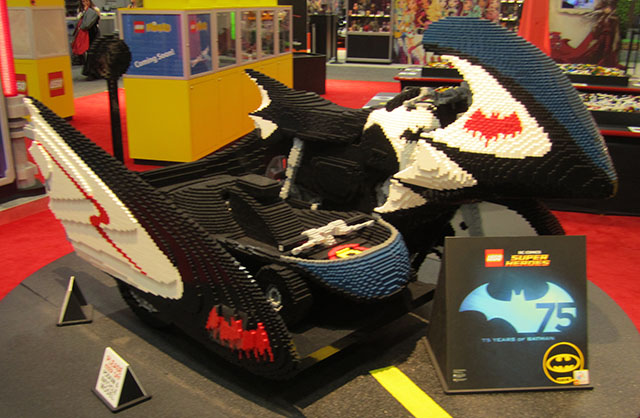 The north front corner of the booth where you'll find Shredder from The Teenage Mutant Ninja Turtles. This version of Shredder is based on the Nickelodeon TV series, not the upcoming Michael Bay feature film. The film is still a few weeks away, but this this life-sized Shredder will do just fine when it comes to giving amphibian heroes on the half-shell a tough time.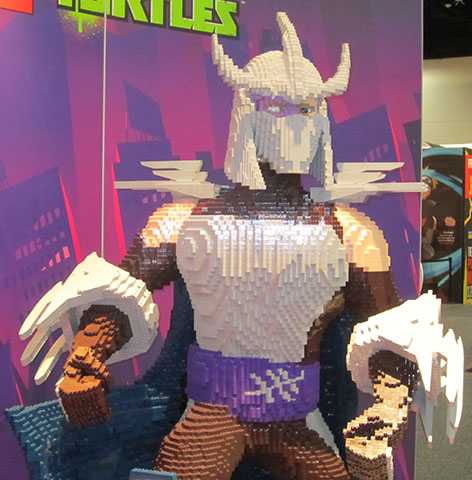 Inside the booth is where LEGO has tucked away some of the most amazing Star Wars sights at the convention. For starters, they've created a life-sized version of Chopper, the cantankerous astromech that will be one of the lead characters in the upcoming animated television series, "Star Wars: Rebels" on Disney XD this fall. Series director, Dave Filoni has described Chopper by saying that if R2-D2 is your favorite dog, Chopper is a cat. Don't expect him to come calling with his tail wagging. Chopper is more likely to sulk away grumbling on his way to fix the Hyperdrive on The Ghost, the hero vehicle of the new series. He's based in part on concept art by Ralph McQuarrie for R2-D2 for the original Star Wars film.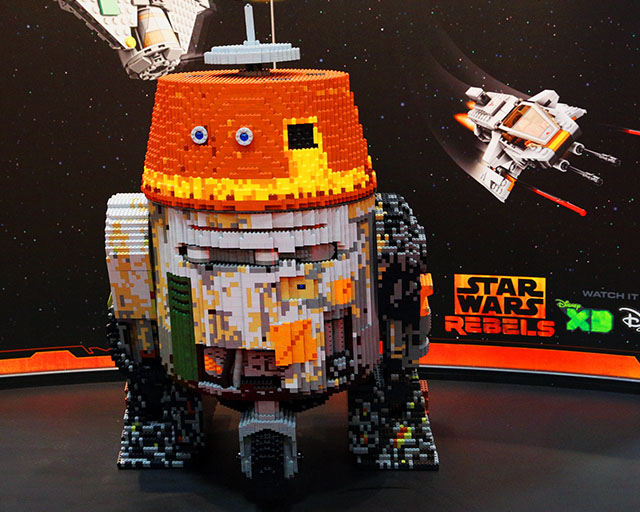 The booth interior also contains a giant, three-sided display case displaying each and every LEGO Star Wars mini-figure ever produced in the history of the line. This massive array of over 600 mini-figures has fifteen years worth of every version of every character, literally from A-Z, including creature figures like the Wampa, the Rancor, and even the Sarlaac. It's an impressive gallery that's sure to continue to grow rapidly for the foreseeable future!
On display as well, a large and lively figure of the Sta-Puft Marshmallow Man from Ghostbusters honors the 30th anniversary of the original film, and this year's LEGO Ghostbusters and Ecto-1 vehicle set.
And worth noting, but technically outside the LEGO booth, is a phenomenal model of the terrifying Dragon Smaug, dwarfing a relatively tiny Bilbo Baggins from The Hobbit. This huge model is on display at the Warner Brothers booth (#4545). In anticipation of this December's theatrical release of THE HOBBIT: The Battle of the Five Armies, a production of New Line Cinema and Metro-Goldwyn-Mayer Pictures (MGM), this large-scale model of features custom light elements to simulate the dragon's fire-breathing ability.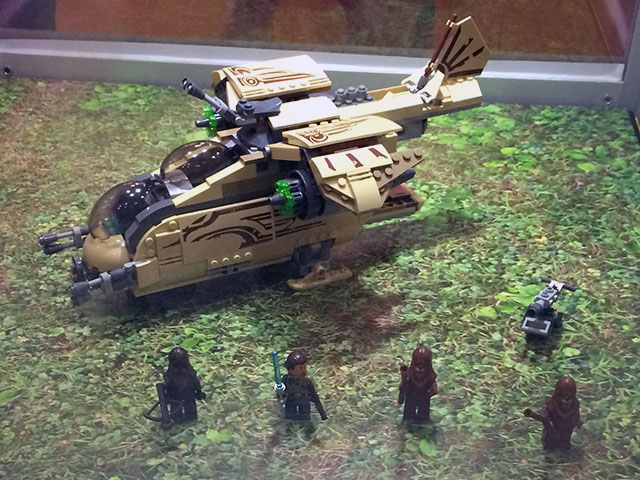 Along with all these exhibits, there have been several huge reveals of upcoming LEGO sets. Of chief interest to Star Wars fans is the upcoming Wookiee Gunship set (75084). Based on a new vehicle to be featured in the upcoming Star Wars Rebels animated series, this set consists of 570 pieces including minifigures of Kanan, and three new Wookiee characters. It's coming out in January 2015, with an MSRP of $69.99.

Check our gallery of photos from the LEGO booth here.
July 23, 2014

SDCC: Row M's "Tweet For Toys" Comic-Con Exclusive Giveaways Happening Now!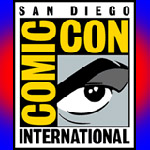 We'll be giving away a different SDCC exclusive item each day of the convention, (including Preview Night Wednesday) from some of the most popular exhibitors' booths. So, whether you're at the convention or just reading and tweeting from home, you can score some of the hottest, most sought after exclusives from the convention floor at Comic-Con International 2014!

How to enter: Follow RowMcom on Twitter.
Check www.rowm.com each day of the show (Wednesday 7/23- Sunday 7/27 for the phrase of that day and tweet that phrase to be entered to win that day's prize. We'll choose a winner at random each evening. Winners will be direct messaged on Twitter and if you're at the convention, you can meet up with us and pick up your item. If you're not at the convention, we can ship your item to you.

You can enter once each day for each drawing. So check back every day for each new phrase to tweet out.

Wednesday 7/23: Our first prize is Weta Workshop's SDCC Exclusive The Hobbit: The Battle of the Five Armies - Smaug Scale T-shirt Your choice of sizes from Small to XXXL.
Follow us on Twitter and tweet out the following phrase:
" I want my #SDCC exclusive Weta #TheHobbit Smaug Shirt from @RowMcom "
If you're at the convention, make sure to stop by Weta Workshop's booth #3613 to see their tremendous life-sized animated Smaug, in all his glowing fiery ferocity!
Smaug scale T-shirt, including the "missing scale". Color: Maroon Full dye-sublimation printed front, back and sleeves. Unisex Gildan 5.6 oz DryBlend 50% preshrunk cotton and 50% polyester.
The shirt is also available for purchase at the booth for $40.00.
Tomorrow's prize: A My Little Pony Exclusive item from the HasbroToyShop.com booth.
We have a Hot Star Wars prize coming up during the weekend and more, so check back in the morning for the new phrase of the day to use to enter for your chance to win!