February 14, 2018

Vintage Star Wars Tray Valentines: A Look Back
by Robin Vial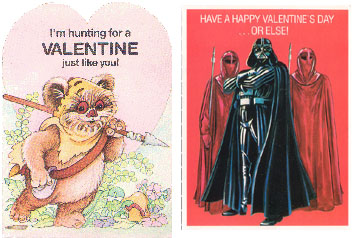 During an average calendar year, Star Wars fans enjoy favorite expendable items, like calendars and party goods, and greeting cards for various occasions. But the one little item that shines forth at this time of year and stands out as charming (if somewhat silly) is boxed Star Wars-themed tray valentines. Called tray valentines, because they were traditionally always packaged in years past in little cartons containing a slide-out tray, these sets usually consist of 24 to 30 perforated cards in four or five different designs, all with little envelops. Designed for use by schoolchildren, the sets are made for kids to be able to pass out cards to their entire class, as well as their teacher and, sometimes, their school principal. Nowadays, tray valentines are often just boxed, and come in assortments featuring licensed characters of all kinds, with certain steadies, but mainly centering on characters from the previous summer's big movies.

With the Prequel Trilogy films, Star Wars fans have been pretty lucky, because tray valentines have been released almost every year since the mid-'90s, when Star Wars valentines reappeared in conjunction with the Special Edition. They have remained on the radar, while other characters have come and gone, sustained by the new films and the DVD release.

Star Wars valentines first appeared during the Original Trilogy Era in 1984, after the release of "Return of the Jedi." Offered by the now defunct company Drawing Board Greeting Cards, they came in a standard "Return of the Jedi" movie assortment and an animated Ewoks cartoon assortment. During the dark times of the late '80s and early '90s, when Star Wars faded from the forefront of pop culture, the valentine was but a distant goofy memory. When they reemerged (manufactured until now by the tray valentine powerhouse company, The Paper Magic Group), the simple drawings and graphics of the vintage era evolved into flashy graphics and photo stills, and eventually the cutting edge of tray valentine technology - foil valentines, printed on a surface shiny as C-3P0 at an awards ceremony. They now come with little heart sticker seals, and the Episode I cards even featured trivia questions on the back. But one thing has remained constant throughout - bad puns and jokes that easily out- corn Orville Redenbacher. Sometimes cute and funny, sometimes oddly threatening, and sometimes just plain cringe-worthy, the writing on these valentines has always been the star of the show. Take these classics: Vader flanked by Emperor's Royal Guards threatening the recipient to "Have a Happy Valentine's Day...or Else!" Or Jabba the Hutt "commanding you" to have a happy Valentine's Day. Or the animated Wicket swinging from vines and thanking his teacher for "showing him the ropes."

Now we all can see the dirty little secret of these tray valentines coming a mile off: Little kids aren't the only ones buying them. Fully grown Star Wars fans are buying them, and in some cases, actually using them. This taps into the primal conflict of any self-respecting Star Wars fan. It's internal war between gorging on all things Star Wars all the time, and actually getting a date.

With the Star Wars fan rapidly replacing the "Star Trek" fan in pop culture as the icon of the dateless and desperate geek, sending a Star Wars tray valentine to another adult could in fact be the most shamelessly geeky of all possible romantic overtures. But I say go ahead and send it! It's the ultimate litmus test of whether or not the object of your crush will ever be able to handle your affection for "Star Wars." And in 2005, that's going to be more important than ever. You can't be dating someone who can't handle having R2-D2 say to them, "I bet you whistle at all the droids", Jar-Jar saying "Mesa Wish You Maxie Big Val Day," or C-3PO quipping, "I'm certain you'll find a splendid counterpart on Valentine's Day!"

This year's only drawback is that if you want to find the Chewbacca "You've got me howling" card along with the rest, you'll have to find a Wal-Mart. The Original Trilogy-themed set meant to play off last year's DVD release is available in Flashy-Foil style only, exclusive to the retail giant. For us here at NYLine, that's pretty rough, because there are virtually no Wal- Marts in New York City. Good thing we stocked up on those vintage "Return of the Jedi" speeder bike "out of this world" valentines when we had the chance!