Star Wars
February 2005
February 28, 2005

Toy Fair 2005: Master Replicas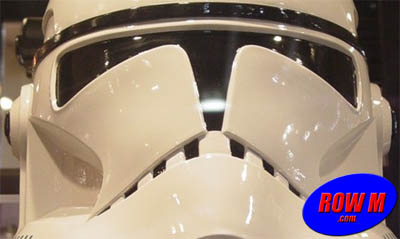 Our coverage of Toy Fair 2005 continues with the impressive prop replicas and replica vehicles from Master Replicas. This year's Star Wars line includes new and improved FX lighsabres, and a wide array of stunning items based on both the original trilogy and the Prequels, of course with an emphasis on hotter-than-lava new items from Episode III Revenge of the Sith.
The FX lightsabers have been vastly improved, with the ignition light up and and shutting down from the handle, rather than the older models where the whole length of the blade came on at once. And the sound package has ben pumped up louder than ever, while made to run on half as many AA bateries (3 instead of 6).
Check out the array of items and FX sabre video in our gallery.
February 24, 2005

"LEGO® Star Wars™: The Video Game" Hands-On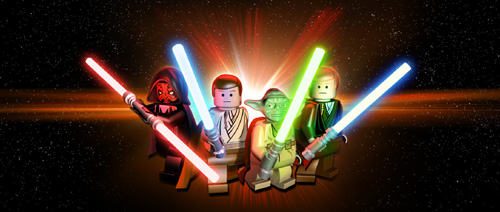 What? LEGO Star Wars: The Video Game? There have already been many games based on the prequel films. So why make another one? And why make it in LEGO® of all things? Can this possibly be a good idea?
Find out here in our detailed hands-on account.
February 16, 2005

George Lucas to Appear On Screen in Episode III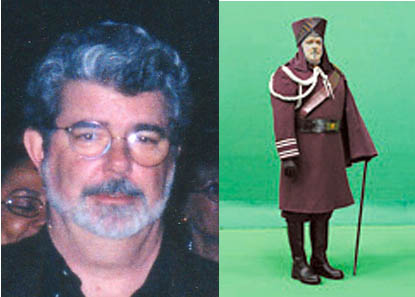 George Lucas will be seen on screen as an extra in Star Wars Episode III: Revenge of the Sith this May, as reported by fellow NYLINE sponsor UGO's, T'Bone's Star Wars Universe. Lucas will finally be visible as an extra in a crowd scene this time. His background character, "Baron Papanoida" reportedly already has one of those fluffed up "Expanded Universe" backstories that Starwars.com frequently makes up for the extras in Star Wars films. In previous installments, persistent rumors abounded, fueled by less than eagle-eyed fans who insisted that certain extras seemed to resemble George Lucas. The rumors especially surrounded one extra in a senate scene in Attack of the Clones who is seen from behind, applauding Jar-Jar Binks' Galaxy-dooming motion to allow Chancellor Palpatine emergency military powers. Way to go, Jar-Jar. The rumors were false, however. Lucas has never appeared on camera in a Star Wars film, although scores of other notable crew members have.

It is not uncommon for an auteur director to appear as an extra this way, as Alfred Hitchcock always notoriously did in his films, and as most recently Peter Jackson did in his final Lord of the Rings installment, The Return of the King. But in recent years, with films like the LotR and Star Wars prequels shooting under non-union circumstances, family, friends and crew have been jumping in front of the camera like never before. Union rules normally prohibit it, because left unchecked, all the extras' jobs get taken up by all the friends and relatives who (not surprisingly) are often not paid, creating an additional temptation for producers to let the practice go on.

It is fairly routine for employees and family and friends to do the extra work in the Star Wars films, especially the second unit work done in California. Lucasfilm is notoriously non-union prone and these jobs (normally filled by Screen Actors' Guild members or at least non-union actors) fall outside union agreements when done at the Ranch, which is by design, outside their zones. Lucas' daughter, can be seen as a featured alien extra in the club scene of Attack of the Clones, and his son is featured in the Library scene. Notably, the prominent Jedi bit character Aayla Secura is played by Lucasfilm production assistant Amy Allen. While it makes for a cute family album and a "Where's Waldo" type of easter egg hunt for viewers, it can become harmful to the reality of the film, since the non-actor extras are often so wooden and bad that it's noticeable, especially when the camera lingers on an extra who is someone's relative for no good reason in the story. In sci-fi movies, which rely especially on suspension of disbelief, it can disturb the look of a fully fictional universe. There'll be no mistaking George Lucas, though, if it is indeed true this time that he did shoot footage of himself in the crowd scene and he's not just some masked alien extra. That is, unless it ends up cut.
February 15, 2005

Fifth Annual Game Developers Choice Awards Nominees Announced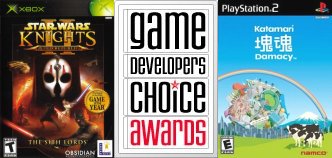 Yesterday, the International Game Developers Association announced the list of nominees for the 5th Annual Game Developers Choice awards, the only peer-recognition awards in the game industry.
Last year, Row M favorite Star Wars: Knights of the Old Republic was nominated for four awards and won three.
This year, Star Wars: Knights of the Old Republic II: The Sith Lords is up for one award: Best Writing. Competition is fierce, though; it's up against Grand Theft Auto: San Andreas, Half-Life 2, and other strong contenders.
In addition, Obsidian Entertainment, developers of KOTOR II, are up for the Best New Studio award. Though early buzz is in favor of City of Heroes developer Cryptic Studios, all of the nominated teams are extremely talented and any of them may win.
Also--and this has nothing to do with our regular movie coverage--Row M's new favorite game, Katamari Damacy, was nominated for four awards, including Best Audio, Best Character Design, Best Game Design, and yes, Best Game.
The full list of nominees is available here, and the winners will be announced at the Game Developers Conference on March 9, 2005.
February 9, 2005

Vintage Star Wars Tray Valentines: A Look Back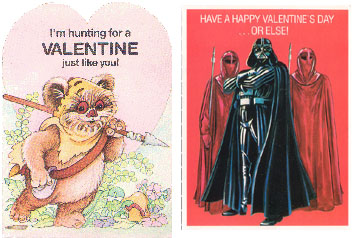 During an average calendar year, Star Wars fans enjoy favorite expendable items, like calendars and party goods, and greeting cards for various occasions. But the one little item that shines forth at this time of year and stands out as charming (if somewhat silly) is boxed Star Wars-themed tray valentines. Called tray valentines, because they were traditionally always packaged in years past in little cartons containing a slide-out tray, these sets usually consist of 24 to 30 perforated cards in four or five different designs, all with little envelops. Designed for use by schoolchildren, the sets are made for kids to be able to pass out cards to their entire class, as well as their teacher and, sometimes, their school principal. Nowadays, tray valentines are often just boxed, and come in assortments featuring licensed characters of all kinds, with certain steadies, but mainly centering on characters from the previous summer's big movies.

With the Prequel Trilogy films, Star Wars fans have been pretty lucky, because tray valentines have been released almost every year since the mid-'90s, when Star Wars valentines reappeared in conjunction with the Special Edition. They have remained on the radar, while other characters have come and gone, sustained by the new films and the DVD release.

Star Wars valentines first appeared during the Original Trilogy Era in 1984, after the release of "Return of the Jedi." Offered by the now defunct company Drawing Board Greeting Cards, they came in a standard "Return of the Jedi" movie assortment and an animated Ewoks cartoon assortment. During the dark times of the late '80s and early '90s, when Star Wars faded from the forefront of pop culture, the valentine was but a distant goofy memory. When they reemerged (manufactured until now by the tray valentine powerhouse company, The Paper Magic Group), the simple drawings and graphics of the vintage era evolved into flashy graphics and photo stills, and eventually the cutting edge of tray valentine technology - foil valentines, printed on a surface shiny as C-3P0 at an awards ceremony. They now come with little heart sticker seals, and the Episode I cards even featured trivia questions on the back. But one thing has remained constant throughout - bad puns and jokes that easily out- corn Orville Redenbacher. Sometimes cute and funny, sometimes oddly threatening, and sometimes just plain cringe-worthy, the writing on these valentines has always been the star of the show. Take these classics: Vader flanked by Emperor's Royal Guards threatening the recipient to "Have a Happy Valentine's Day...or Else!" Or Jabba the Hutt "commanding you" to have a happy Valentine's Day. Or the animated Wicket swinging from vines and thanking his teacher for "showing him the ropes."

Now we all can see the dirty little secret of these tray valentines coming a mile off: Little kids aren't the only ones buying them. Fully grown Star Wars fans are buying them, and in some cases, actually using them. This taps into the primal conflict of any self-respecting Star Wars fan. It's internal war between gorging on all things Star Wars all the time, and actually getting a date.

With the Star Wars fan rapidly replacing the "Star Trek" fan in pop culture as the icon of the dateless and desperate geek, sending a Star Wars tray valentine to another adult could in fact be the most shamelessly geeky of all possible romantic overtures. But I say go ahead and send it! It's the ultimate litmus test of whether or not the object of your crush will ever be able to handle your affection for "Star Wars." And in 2005, that's going to be more important than ever. You can't be dating someone who can't handle having R2-D2 say to them, "I bet you whistle at all the droids", Jar-Jar saying "Mesa Wish You Maxie Big Val Day," or C-3PO quipping, "I'm certain you'll find a splendid counterpart on Valentine's Day!"

This year's only drawback is that if you want to find the Chewbacca "You've got me howling" card along with the rest, you'll have to find a Wal-Mart. The Original Trilogy-themed set meant to play off last year's DVD release is available in Flashy-Foil style only, exclusive to the retail giant. For us here at NYLine, that's pretty rough, because there are virtually no Wal- Marts in New York City. Good thing we stocked up on those vintage "Return of the Jedi" speeder bike "out of this world" valentines when we had the chance!
February 4, 2005

LEGO® Star Wars Video Game Site Launches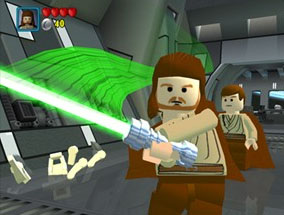 Oh, sure, you've played the Star Wars video games. You've fought battle droids, flown AT-ATs through Hoth, raced speeder bikes through Endor, clashed your lightsaber against Darth Vader, and blown up the Death Star countless times. It seems like all the Star Wars video games have started blending together—until now.
Today, Eidos opened the web site for the new LEGO® Star Wars video game, developed by UK developer Traveler's Tales. Set in the prequel trilogy, the game places you in control of the little plastic Jedi and other characters as they fight through pivotal moments in the three Star Wars prequel films--in LEGO®.
Set to be released in April, LEGO® Star Wars promises to be a unique entry in the pantheon of Star Wars video games, and Row M will be one of the first to get a hands-on view of the game at Toy Fair in a few weeks. Check back with us for photos and detailed impressions soon, and until then, whet your appetite with the official "LEGO® Star Wars™ The Video Game" website.
February 2, 2005

Row M teams up with NYLINEIII for Revenge of the Sith
2005 is here. It's going to be a big year for various fandoms. We're all still enjoying the Return of the King Extended Edition. It's a Harry Potter book year and movie year. But the main event of 2005 is without question the release of Star Wars Episode III: Revenge of the Sith. RowM.com was born out of the intersection of these fandoms and the various Line Parties, Line-ups and opening events surrounding such releases in New York City. Row M is proud to announce that we are joining in as one of the sponsors of the grandaddy of all modern Line Party events, NYLINE and their NYLINEIII at the Ziegfeld Theatre in NYC.
As usual, Row M is about the providing fans with "the best seat in the house", and our name "Row M" refers to that very row of seats at the Ziegfeld theatre. We're excited about supporting NYLINEIII because it's all about securing the best seats for the fans. And even better, participating in NYLINEIII secures your seat and provides heaps of fun and giveaways, while supporting the area childrens' charity, the Starlight-Starbright Childrens Foundation to boot. We'll be working to help provide the best opening experience for this last new Star Wars film of the Prequel Trilogy, and to make sure that Row M remains the place to be for opening events in NYC.
So, be sure to visit www.nyline.org today and sign up for their newsletter. Then click through and join their awesome new message boards for those interested in the Line and all things EIII. As they say over at NYLINE, we're "Almost There..." and we'll see you soon on the sidewalk!