January 5, 2015

Hasbro and Sideshow Products Still Tangled Up At West Coast Ports
by James Prater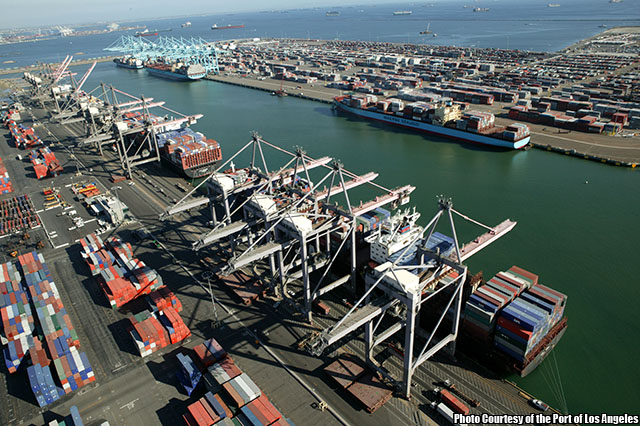 Sideshow Collectibles has sent out several rounds of new emails today to update customers about delays in shipment of several pre-ordered items, including their 1:6 scale Star Wars Captain Rex figure. Sideshow was originally scheduled to begin processing charges for pre-ordered Rex figures only hours later. But now they'll have to wait to collect funds until it's clear that the inventory has made it through the Port of Long Beach and into Sideshow's hands so that they can begin shipping. This is just the latest example of a delay in the appearance of an individual Star Wars toy product at retail that certainly dimished the presence of Star Wars under the tree in many households this past Christmas season.

This should have been a pretty strong Christmas for Star Wars toys. There is current screen entertainment in the form of the Rebels animated series on the Disney channel and Disney XD. A seventh feature film is on the way, Star Wars: The Force Awakens. The title announcement and then the release of the teaser trailer on Black Friday successfully ignited tremendous anticipation among fans of all ages who generated an unprecedented amount of traffic to the trailer online, triggering loud buzz that rippled throughout the media in the form of memes online and countless mentions and references in late night talk show monologues and prime time scripted entertainment.

Instead it was something of a mixed bag at retail for customers looking for Star Wars toys for themselves, or as gifts for either kids or collectors alike. Action figures based on Rebels, produced by Hasbro and meant to hit retail in tandem with the show's TV debut in October were conspicuously absent from shelves in many Toys R US locations nationwide throughout season. Featured displays stood empty, or were even filled with other products under the banners splashing Star Wars Rebels art overhead. An initial burst of action figures made it through and quickly sold through, leaving mostly empty pegs among other types of merchandise that did make it to stores, like role play toys and some Jakks Pacific larger format figures. Now that the Christmas season is over, January finds those same areas remaining empty during traditionally bare periods during which big retailers keep stock low while taking inventory.

It's hard to gauge how much new business was lost with kids who should have been getting on the Star Wars bus with Rebels in October and asking for all things Star Wars for Christmas. But adult collectors have been rather detectably chattering across social media and online forums about the lack of new product at retail, and the absence of anticipated items that they were looking forward to having already purchased. Through it all, companies like Hasbro have remained relatively silent on the topic, offering no comment on the situation at the Port of Long Beach. Sideshow's emails are perhaps the biggest overt admission yet that there is a problem at the Port that is the direct cause of a drought of Star Wars toys.

Delays as a result of the labor dispute at the Port of Long Beach has added weeks onto the amount of time it takes for arriving cargo to get off the ships and to their recipient's destination for distribution.

While the delay has universally affected all types of goods, each has their own unique liabilities that are born from being held up. And with more than 40 percent of U.S. containerized imports normally coming through the Port of Long Beach, the delays have created a measurable effect on store shelves of all kinds across the entire country.

Toy imports were affected dramatically in the last quarter of 2014 by the ongoing conflict, which dragged into and completely over their entire peak season. Half all annual sales of toys happen in the last quarter. That half amounts to about $10 billion in sales. That's based on about 60 percent of all volume of toys physically coming through to the U.S. in the second half of any typical year as big retailers begin the stocking up for Christmas as early as late summer.

Those are the types of problems that have kept Hasbro's products from hitting regularly. But smaller companies like Sideshow have their own serious troubles caused by the delays. When delivery windows to their customers are missed by so much, it adds all sorts of budget overages for things like air-freight or other expedited shipping and delays in cash flow in general when funds can't be collected from customers on time.

A California-based company like Sideshow has no real alternative to their nearby ports. While a company like McDonalds can remedy the French Fry shortage created in December in their Japanese store locations by re-routing their potato shipments through the East Coast, Sideshow is too local to the affected West Coast ports to make the East Coast a viable option. Los Angeles and Long Beach handle more than 50 percent of all toy imports and the New York-New Jersey ports are way behind that, handling only 10.7 percent in 2013, and all other U.S. ports handling the rest in tiny amounts.

At the heart of the dispute is a long-running contract negotiation between the Pacific Maritime Association which runs the ports, and the International Longshore and Warehouse Union, which represents employees like Longshoremen that work at the ports handling cargo. Failed negotiations have been held under Federal Mediation and Conciliation Service for over a year now. The ILWU is allegedly employing go-slow tactics that hold up productivity in order to gain leverage in the contract negotiations. Despite PMA accusations blaming the obvious delays on the union, the ILWU does not acknowledge that there is any work slowdown.

The situation persists without any end in sight. Unless toy companies react dramatically to reroute new products soon somehow, new Star Wars products based on the upcoming Star Wars: The Force Awakens could get dragged into the quicksand of delay. The marketing plans for new Star Wars items in 2015 aim to have new products hit shelves in the fall, ahead of the film's December release.