April 10, 2015

Star Wars: The Digital Movie Collection Re-Ignites The Saga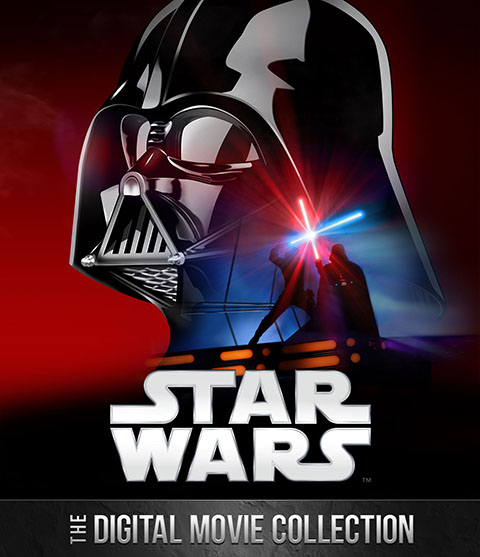 The Star Wars Saga has made its debut on digital platforms today, and marks the beginning of the next wave of Star Wars revelry throughout pop culture. While rumored an anticipated for quite some time, this latest move of the Star Wars Saga onto a new medium came with comparatively little marketing and hype. Gone are the days when audiences had to wait literally years for the films to make their way to home video on various tremendous tape cassette formats and then clunky digital disc formats that led to dvd and finally blu-ray. Things have now crossed a line into immediate gratification and total poratbility. One can simply take their phone out of their pocket, and within a few keystrokes, purchase every one of the Star Wars live-action feature films and have them playing nearly instantly in the palm of one's hand. And it looks surprisingly good on even the small screen of a smartphone.

Those who pre-ordered the digital release, which was available of various major platforms like amazon, itunes, and vudu, were able to simply click open their digitally delivered content to unleash it on their devices of all shapes and sizes shortly after midnight. If ordered as a complete collection, the package included special features for each of the six films, which are a mix of many previously release features from the blu-ray release along with some new content around the edges.

The release comes a week ahead of Star Wars Celebration, the official Star Wars fan convention, taking place this time in Anaheim California, beginning on Thursday, 4/16 and going through that weekend. The convention is the seventh such event in the U.S. since 1999, when the official Star Wars fan convention was reborn in this form with an event in Denver Colorado to "celebrate" the highly anticipated release of the first prequel film, The Phantom Menace, after a 16 year absence from movie screens since the initial heyday of Star Wars. This year's Star Wars Celebration Anaheim will serve as a communion of thousands of the most ardent Star Wars devotees before which Lucasfilm and Disney can unveil the full trailer and the poster for the next Star Wars feature film, "The Force Awakens", seventh in the saga, though the episode numbers aren't being as highly billed in this new era, a Sequel Era of three films that take place after the events of Return of the Jedi.

The new film was originally slotted in for a traditional summer release in May. But it has since been pushed to a first time ever for Star Wars winter release this December. The push came too late to postpone the already pre-sold convention, which was originally timed to amp up the excitement leading up to the actual release. Now it instead prolongs the savoring of Star Wars among fans and teases audiences with a longer lead up to the new film. But there is no doubt that Star Wars will be front and center and on many people's radars, whether they are at the convention or not. The convention will surely yield plenty of press and tidbits about the new Star Wars material, news about the ongoing Star Wars animated television series, "Rebels", and all the previous films as people re-exerience them through their new digital copies at home or on the go. And surely even those who decline to purchase Star Wars yet again may reach for their physical discs and pop them in for a spin, while countless children of Star Wars fans and their pals are likely to be indoctrinated through ritual first time viewings of the film.

It is perhaps the most natural fit for Disney to own and oversee Star Wars now, as they have pioneered the craft of harvesting an opening ended string of generations of new fans every five years or so through strategically managed re-releases of classic Disney films in theaters and on home video. If you haven't done so, and you're interested in owning the Star Wars Digital Movie Collection, you probably hardly need to move a muscle, and can find it on the aforementioned amazon, itunes, vudu, or other favorite seller of your choice from wherever you're reading this.

Star Wars: The Force Awakens is scheduled to be released in theaters on December 18, 2015. Star Wars Celebration Anaheim will take place from Thursday, April 16 through Sunday, April 19th. Row M will be there and covering Star Wars news straight from the convention. So check back often as all the Star Wars news starts coming faster than a supernova, which could end your trip real quick.