February 11, 2016

Star Wars' Production Company Charged Officially Over Harrison Ford Injury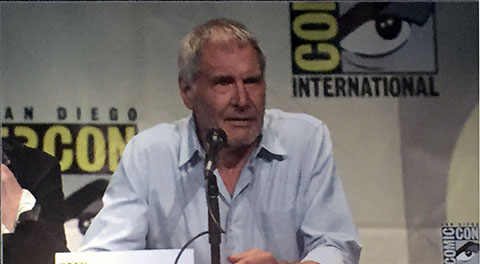 Disney's production company used to produced Star Wars: The Force Awakens was criminally charged in Britain today by the office of the Health and Safety Executive, the authority that governs workplace safety. The charges stem from the broken leg injury sustained by Harrison Ford on set during filming of the highly anticipated sequel in June 2014.

Ford, then 71, was struck by a hydraulic metal door on the set of his character's iconic starship, the Millennium Falcon at the London-area Pinewood Studios, which resulted in an emergency airlift to a nearby hospital for surgery.

Production on the film was halted for two weeks as a result, as producers regrouped to reschedule and make changes to accommodate the obstacle of losing Ford on set.

Great Britain's Health And Safety Executive has brought four charges of violations of health and safety laws against Foodles Production (UK) Ltd - a subsidiary of Disney.

Following an investigation, the HSE said it believed there was sufficient evidence about the incident which left Ford with serious injuries, to bring four charges relating to alleged health and safety breaches.

An HSE representative said: "By law, employers must take reasonable steps to protect workers - this is as true on a film set as a factory floor."

Foodles Production is the corporation operated by Disney to produce Star Wars VII: The Force Awakens, so it is the entity responsible under health and safety law.

Company representatives are expected to appear at High Wycombe Magistrates Court, which is in the area of Pinewood Studios on May 12.

Star Wars: The Force Awakens was filmed at Pinewood Studios in Buckinghamshire where production of Star Wars: Episode VIII, directed by Rian Johnson is currently underway. Episode VIII is set for release in December 2017.