July 19, 2013

SDCC 2013: Star Wars Angry Birds Jar-Jar Binks Revealed by Hasbro
by Byron Crystal
The Hasbro Panel at San Diego Comic-Con has been a source of dashed hopes for Star Wars 3 3/4" figure collectors in recent years. As the annual convention cycle has turned lately, Hasbro would tease new Star Wars reveals at Toy Fair without delivering, instead teasing new reveals at San Diego and Star Wars Celebration. But it's been some time since any single panel has really delivered much truly new and exciting imagery and info about new figures. But this year's panel was uniquely disappointing in that regard.

With the end of the Vintage Collection in 3 3/4" scale, the focus of the panel was not an overview of what is to come in the beloved traditional scale of Star Wars toys. Instead the panel's main thrust and most of its time was devoted to the next generation of Star Wars Angry Birds. A new version of the game is coming soon based on the Prequel Trilogy. And so is a new generation of toys and merchandise based on the game. And naturally this means that now we will finally see a unique and notable low (or high, depending on your point of view) point in Star Wars toy history: the Jar-Jar Binks Angry Bird.

For those blissfully unfamiliar, Star Wars Angry Birds adapts the wildly popular mobile device video game under a Star Wars theme, casting the usual bird characters as Star Wars versions, with Star Wars-themed "powers" unique to each character that are used differently in the game's Star Wars themed environments to destroy enemy pig-built structures. The initial offering took on the Original Trilogy of Star Wars films and character. This new sequel game goes back and takes on the Prequel Star Wars films. So, the Gungan Jar-Jar bird (who has a beak AND buck teeth, and looks generally like a freak of nature) was an inevitability.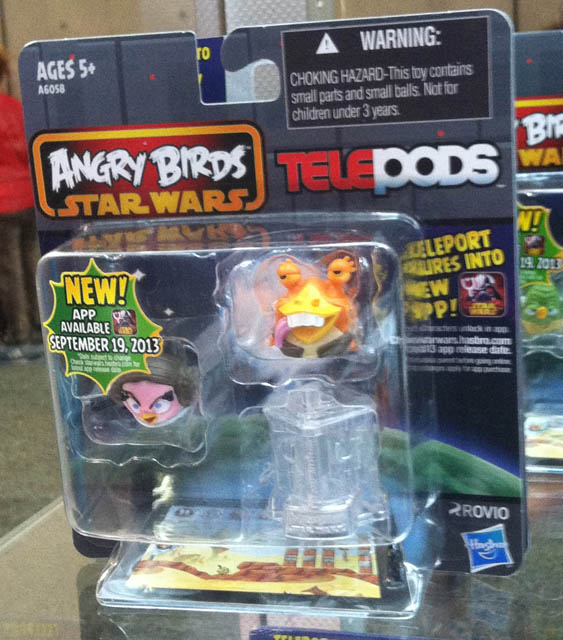 Speaking of abilities, the Jar-Jar Binks Angry Bird commands a unique one. When thrown, he can lash his tongue at great lengths to unleash damage and change direction. And that's the real story about this new version of the game. It expands on the original exponentially by giving players scores of characters with unique powers that can enter the game and become part of their arsenal via as newly developed "Telepods".
Telepods are an answer to Activision's insanely popular Skylanders. They successfully marry physical toys and collecting to video game play and gaming. One can play the game with the characters that it comes with. But also, one can buy the toy figures of other characters and using the camera on most devices, send that character into the game to be used like any other in-game character. The figures each come with a little clear stand that you position over the camera of an ipad or other such device. The camera reads a QR code that is embedded on the bottom of the figure. It's a clever and effective way to mimic the functionality of the Skylanders figures and base. For those that thought the initial waves of Hasbro's Star Wars Angry Birds toys seemed pointless, stick that in your pipe and buy it. Now the toys have the ultimate purpose of entering the game for real, not just being collectibles based on it.
Unfortunately for adult collectors, this still keeps the state of 3 3/4" figure collecting shrouded in mystery and doubt as we wait once again until at least New York Comic Con, or even Toy Fair 2014 to hear what it so become of the line in the face of the debut of the 6" figure line, "The Black Series", and this oncoming tsunami of kid-focused Star Wars Angry Birds. The omission of any 3 3/4" SDCC exclusive doesn't help matters either. While the 6' scale Boba Fett and Han in Carbonite set is one of the hottest exclusives at SDCC this year, and it sells alongside a full set of exclusive Star Wars Angry Birds figures, this is the first year in about a decade that there was no 3 3/4" Star Wars figure exclusive offered by Hasbro at SDCC. That may be the biggest clue of all that Hasbro has given as to their plans going forward.